(Tommy Boy audio)
So I was in Oklahoma, again this last week. For those that may not know the company I work for opened an office in Oklahoma City back in September. Brother Wayne moved out along with other members of the company and new ones in the area have started.
Rimrock has had a presence on OKC for a couple years. Not sure how it came about actually, but we take care of a couple Tribal casinos' phone systems.
Here back in the spring/fall one of our sales people was on the ball and was able to pick up the telecom account for the new NBA team, OKC Thunder (formerly Seatle Super Sonics). If your interested heres a couple articles:
http://findarticles.com/p/articles/mi_qn4182/is_20080923/ai_n28112094
http://okc.biz/article/11-10-2008/OKC_Thunder_opts_for_latest_in_telecom_technology.aspx
http://www.rimrocktechnologies.com/www/?q=testimonials
That put our foot in the door in a big way. We now have sales people selling small systems left & right. We invested in a suite @ the Ford Center (OKC Thunder Dome). I went to the Jazz game Wednesday. Of course the Jazz lost by like 20 points or something. Still cool to be up high, have food and drinks. Good time! Here is a picture of the door to the suite. My phone doesn't take good pics.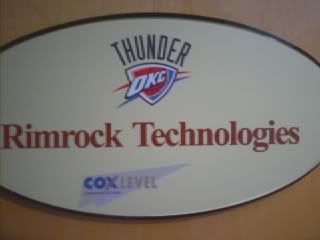 Anyways, One of the tribes invited a few of us to take some "Networking/Telecom" class for certification. So I went with 3 others from out of state and 2 others in OK. The tribes had some of their own people too, 12 guys total taking the class.
Hard class, especially for me. Many of you know I'm semi-retarded. But I tested out and passed, barely.
So Friday we went out on the town, walked the "Brick Town River Walk". It was cold & windy but still fun. We stopped and ate dinner @ Toby Keith's I love this Bar.
I've been by this a couple times in my working in OKC but never went. It was great. The food was really good, the atmosphere was cool.
Later that night we stopped by one of the casinos. We drove by this everyday to class and it looked pretty empty. Friday night was a whole different story. We had a hard time finding a parking space and inside it was packed!!!
On the reservation the tribes don't have to comply with the "air quality" standards. So it was pretty smokey. We were in there for 20 minutes before we had enuff.
All in all a good trip. Very exausting mentally and physically, but came out with a certification, which was the whole point.
So I've been to OKC several times now (4) twice I drove down. But its still flat, still windy, and still humid in the summer and tornados will never go away. So no, not moving yet. I'll visit all the time though!