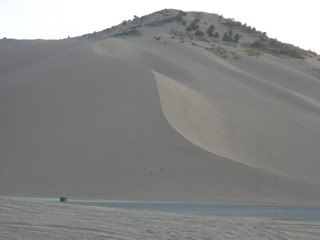 Endless Summer
Yeah summer is over! Not that you can tell by the weather. Its still mid-upper 80's with the sun shining. Bring on the clouds,gloom and mid 50's.
We went on one last summer adventure. Some friends invited us to the sand dunes here in Utah (Little Sahara) to do some 4 wheeler riding. It was alot of fun. Of course the kids like riding 4 wheelers all the time (who doesn't?). On Labor day Liz & I went on a good 20 mile ride. The dunes are alot softer & less bumpy.
Back when I was a kid in Wyoming we'd go out to some and sled down them just like snow. PK & Ben did the same thing, except no sled. Just rolled and slid down. They had alot of fun. If I had a change of clothes and liked sand in my ears I would've done the same!
Although this summer came late do to a long winter it made up for it by being hot and dry. Good ridance, hope its late next year!
Can't see them very well but thats PK & Ben rolling down sand mountain. Benjamin waving his his shirt on the left. "Yes we see you, and THIS time its OK."
Owen looking for shade or digging for crabs (wheres the water if this is the beach)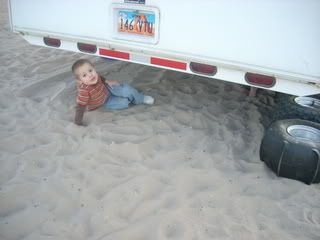 Benjamin says,"Not too big"(he almost tipped over a quad 1/3 that size,couple times)
"No Oliver you can't steer!"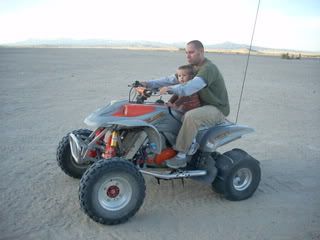 Mess with the Bull, you get the horns! (yeah PK & I almost rolled over too,couple times).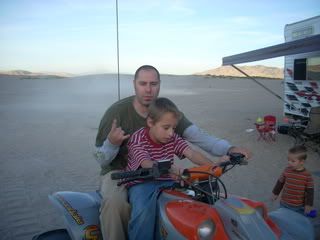 Liz again took all the pictures.