So we took the boys to the mall to see Santa a bit ago. PK is now very adult-like about Christmas. He's ditched a little of the selfish, it's-all-about-me attitude and has been understanding the years when we've told him it's not going to be a huge Christmas. He sat next to Santa and had a nice little chat with him.
Benjamin went right up to Santa and started spouting off his mile-long list which was much longer than the list he told us 10 minutes prior. One of the things he asked for was a back scratcher, so Santa in turn, scratched his back, which I thought was very cute.
Owen, who is still having issues with potty-training, and has been getting in big trouble for it because he is now 5(!), decided he didn't want to go see Santa because he was in trouble. This was our conversation:
Mommy: You excited to go see Santa tonight Owen?
Owen: No, I don't want to see Santa
Mommy: Why not? Don't you want to tell him what you want?
Owen: No.
Mommy: Why? Is it because you know you're in trouble?
Owen: Ya.
Mommy: Well maybe you could tell Santa that you're going to try harder to poop in the potty
and ask him nicely for what you want.
Owen: No. Just you.
Mommy: What do you mean just me? You want me to talk to Santa?
Owen: No. Just you get me what I want.
Mommy: Nice try buddy. You have better luck talking to Santa. He's not the one who has to
wash out your underwear.
He decided by the time we got to the mall the he was excited to talk to him.
Oliver, as beastly as he may be at times, did nothing more than sit on Santa's lap and wish him a Merry Christmas. He doesn't quite grasp the concept of Christmas yet, but it sure is fun to watch him enjoy the decorations and say, "Merry Christmas Mom!" several times a day.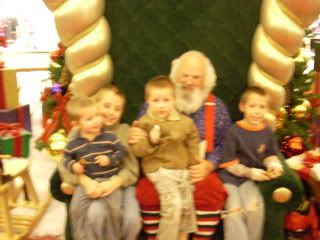 My Christmas came a little early this year and I couldn't be more excited about it! Bruce and I decided that instead of getting each other a bunch of loot, we would rather buy a new kitchen table. Most of you in our family have seen our tiny table that we've had since we first got married. My family can't even fit around it! So we bought a beautiful big table and 8 chairs. I got a little teary eyed at the thought of my whole family, (and even guests!) being able to sit down to dinner together. Thank you Santa!